The COVID-19 pandemic has given many of us a heightened awareness of our surroundings.
As we seek to avoid infection, we're hypersensitive about cleanliness, what we touch and who we're around. With no vaccine on the immediate horizon, it appears we're going to be living with these sensitivities for a while.
For now, companies are altering their office layouts and employees' schedules to support physical distancing, implementing more stringent cleaning policies, instituting health screening protocols and transitioning to more touchless environments. This is a good start.
What we don't want organizations to do is have a knee-jerk reaction and regress to the outdated planning concepts of the 1980s. Instead, we want to help them approach this crisis as an opportunity to pause, study the science behind people's behavior in the workplace and then make evidence-based decisions about rethinking their space for a COVID-era world and beyond.
When companies bring their employees back to the office—whether it's next month or next year—these people will need to feel like they're safe. Giving them plenty of options about how they work and more control over their experiences in that space will relieve some anxiety.
Hypersensitivity and Hyposensitivity
Though most people don't understand exactly how their brains work or affect their sensory intelligence, both neurodivergent and neurotypical employees frequently have hyper- or hypo-tolerances for sensory stimulation—more so in this new COVID-19 world.
Hypersensitive employees process the details of sensory stimuli in an overly magnified way. They prefer predictable environments with controlled stimuli. They dislike environments with excessive stimuli such as bright lights, crowds, unfamiliar scents, textures or temperature fluctuations.
Hyposensitive people have difficulty seeing, hearing or feeling the acute sensory details in a given environment. Preferring to be overstimulated, they need more stimuli to successfully process sensory information.
In the COVID-19-era workplace, the needs of both hypersensitive and hyposensitive employees will be amplified.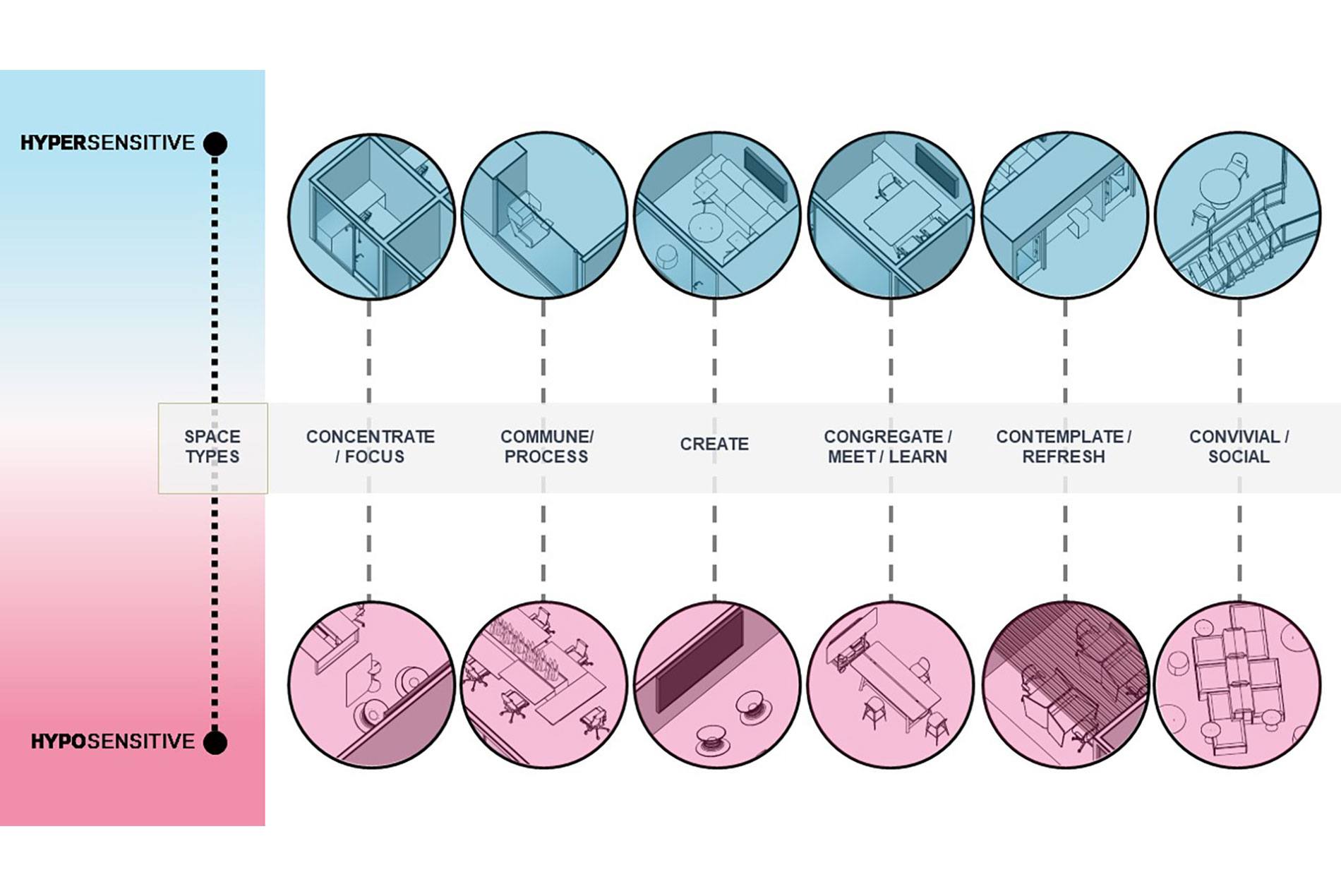 Inclusive Spaces
For a workplace to be inclusive for all, designers need to use all elements of the three-dimensional space—scale and proportion, shape and form, flow, contrast, texture and color—in ways that appeal to people's auditory, visual, tactile, olfactory and proprioceptive senses. We need to create a complete workplace ecosystem with options that are accessible to all, as part of a single solution.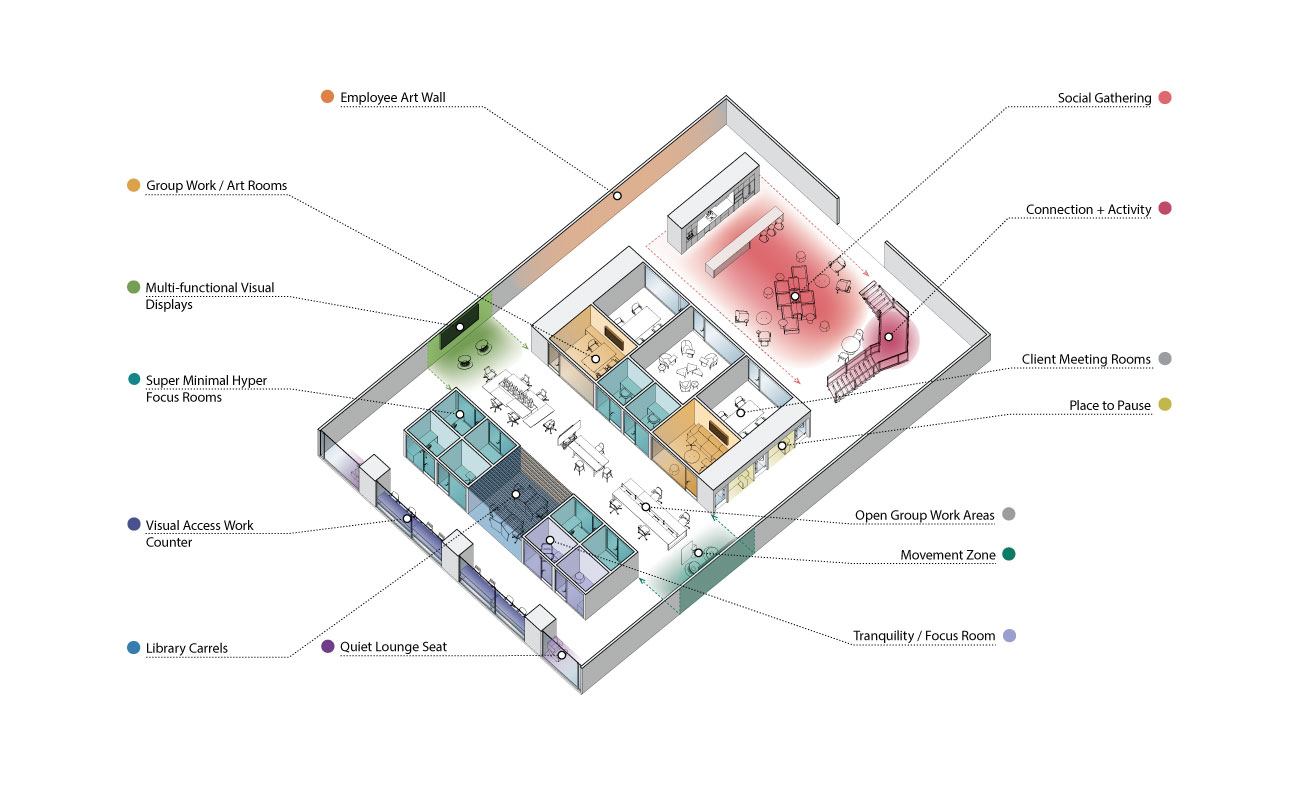 Six Spaces in the Ecosystem
Workplace designers should understand the science and social psychology underlying each type of space in the inclusive ecosystem.
1. Concentrating Space
2. Communing Space
3. Creating Space
4. Congregating Space
5. Contemplating Space
6. Socializing Space
A Seamless Experience
Designers should ensure that spaces for all six modalities of work will be available as needed for both hypersensitive and hyposensitive occupants. While the right sizes and combinations of space will vary for each organization, the key is to provide a seamless array of choices. Spaces should easily adapt to the needs of people with work styles and behavioral needs at both ends of the spectrum. They also must be exceptionally flexible to integrate new technologies over time and, as more people continue to work remotely after the pandemic, to blend real and virtual work environments.